Take action.

Would you like to take action?
This page will help you to do this gradually.
A non-market organization frees us from our boundaries while offering us solutions…
Assemblies in video (4mns)
How to talk about the Great Project ?
We invite all members and assemblies to communicate the MOCICA project by all means at their disposal:
Write to your neighbours
Put up posters
Create videos
Organize conferences
Events
Free markets
Hand out flyers (see further down)
Write songs
By blog
On social networks
Contact media
Organize meetings and exchanges
Etc.
Each new member is a new ambassador. Together, let's create a snowball effect.
Write to your neighbours :
Nothing better than a short letter to the inhabitants of your neighbourhood to invite them to create an assembly.
For example:
"Dear neighbours,
I am a member of MOCICA, which develops mutual aid and free services. This Movement has 3 goals that may interest you:
– Reducing our purchases and our environmental impact
– Organizing ourselves effectively in the event of a major financial crisis
– Getting out of capitalism
If you are interested I will be happy to talk to you about this wonderful project over a drink.
My number:
Organize a debate :
Here's an example of a debate and its visual support established by Lyon's assembly.
.pdf version :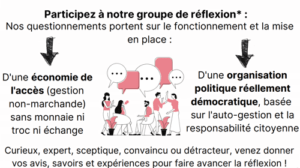 Video
Here is a video version to complete these explanations.
More videos are available on ourYoutube channel.
How to argue :
Here are some ideas for arguments and actions that you can put into practice now to act for change.
These are the most Frequently Asked Questions. By reading them, you will gain a lot of knowledge to exchange on the subject of the transition to a world without money.
WHY DON'T YOU FIRST PROPOSE TO MAKE VILLAGES WHERE EVERYTHING WOULD BE FREE?
MOCICA
2021-11-02T13:42:27+01:00
We encourage and support the realisation of such initiatives. The Great Project application (app.mocica.org) allows, among other things, to bring together members who would like to act in this sense.
However, we anticipate the difficulties that this raises and the goal that we must achieve. The difficulties are numerous: acquiring untaxed land, having all the necessary material goods (housing, tools, clothes etc.) without taking out a loan, passing on everything the village cannot produce itself (e.g. salt, mobile phones, wifi, clothes, medical care, glasses, school supplies etc). Would such a village be a persuasive and encouraging demonstration to the general public?
On the other hand, more free villages would not reduce soaring debts, inequalities etc At some point, therefore, it will be necessary to abolish the means of payment on a massive scale, which is what the Great Project proposes.
In addition, over 50% of the world's population lives in urban areas. We want any citizen who supports the transition to a cashless world to be able to get involved wherever they are. Hence our encouragement to all those who wish to act to meet in local assemblies, whether in the countryside or in the city.
Our aim is not to create free bubbles in a market context, but to switch to a non-market context that offers a natural context for fulfilment. Why not target this objective directly?
Also keep in touch and discuss with members on :